OZI PUMP - 3 in 1 Liquid Transfer Portable Electric Pump
😍YOU NEED THIS TO GAS UP YOUR GENERATOR 🚖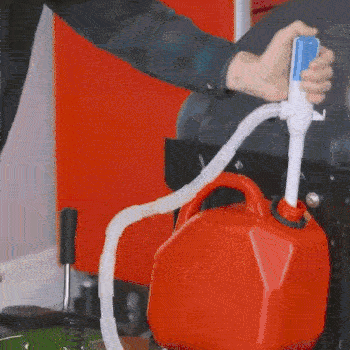 DID YOUR CAR RUN OUT OF FUEL?
NO MORE HASSLES WITH OUR RANGE OF PORTABLE ELECTRIC LIQUID TRANSFER PUMP.
Now you can easily transfer liquid from one receptacle to another with the Electric Liquid Transfer Pump.

This handheld pump eliminates manual siphoning and lets you quickly transfer gas, water, and other non-corrosive liquid without dirtying or tiring your hands.
Wide applications: Not only use to transfer fuel, Portable Electric Liquid Transfer Pump also can be transfer any other non-Corrosive liquids. So you can use it for many other jobs.
FEATURES AND BENEFITS:
No more manual siphoning. If you've ever tried to pour gasoline directly from a can into another vehicle or generator, you'll know how dangerous and messy it can be. That's where the Electric Liquid Transfer Pump comes in handy. It'll make transferring gas convenient, stress-free, and hazard-free. It automatically pumps liquid and transfers 6 quarts per minute.
Auto-buzzer & auto-stop mechanism. Equipped with an auto-buzzer, it notifies you when the pump stops automatically. The auto-stop function, on the other hand, tells you the pump has reached its capacity, preventing leaks and overflows.
Different liquid, same pump: The Electric Liquid Transfer Pump can also transfer water (non-drinking), oil, and other non-corrosive liquids. You can also use it to pump water out of a clogged sink, transfer water out of an aquarium, fill your lawnmower with gas, and more.
Portable: Battery-operated and lightweight, it's easy to carry anywhere with you. It's a useful tool for the garage, basement, bathroom, shop, yard, and is great to keep in your car in case of emergencies.
HOW TO OPERATE:
1. First, twist off the lid to open the battery cover. Insert 2 D batteries (not included) and twist back the cover. Next, insert the suction pipe into the supply (sending) container. Place the other end of the pipe to the receiving container to transfer liquid. Then press the button. Press the button again if you want to stop transferring liquid.
2. When finished, keep the pump upright and lift the handle above the pump mechanism to drain any liquid back into the original container. Do not lay pump down until all liquid has been drained from the tube and pump. Run water through the pump after using it with another liquid. This will rinse the interior and extend the life of the pump.
PRODUCT SPECIFICATION:

Package includes: 1 x Electric Liquid Transfer Pump
Material: PP + PE + Acetal
Overall length: 55 cm/ 21.7 inches
Weight: 300 g
Color: Blue/Red
Powered by: 2 x D batteries (not included)
Shipping & Returns
We stand by our product quality. If you are not pleased with your purchase, we offer a 7-day quality guarantee on all products. If you have any additional questions or would like to request return, refund, exchange, feel free to contact us at support@buyercenter.help.
Learn more about our return, refund, and exchange policies here.
Order processing & shipping time within 3-5 days, and delivery time within 14-21 business days from shipping date. During high volume periods, the processing time may take an additional 2-4 business days . Learn more about shipping FAQs here.
On average, the shipping fee is $4.95 per unit. However, shipping fee may vary due to promotional activities. Please visit the checkout page to obtain your final shipping charges.